Diese Veranstaltung hat bereits stattgefunden.
Bosnia and Hercegovina – DIS
10. Jan. 2022/12:00

-

14:00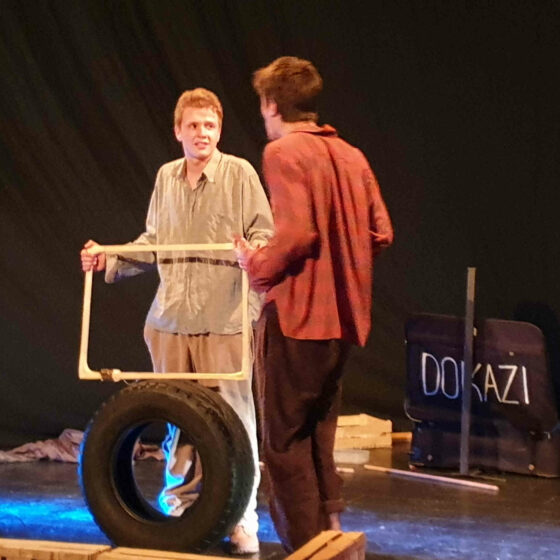 Amafest-Bosnia DIS_Tom
Amafest-Bosnia DIS_Tom
Amafest-Bosnia DIS_Tom
Amafest-Bosnia DIS_Tom
AMAFEST 2020
Bosnia and Hercegovina
/ Banja Luka / DIS THEATRE / WHAT DID TOM ACTUALLY DO
The performance is result of researching one of the most frequent life questions: To leave your country or to stay in country with tough life conditions. The research has been done in Independent Universitu and results have been adapted in very popular play. We don't give an answers, but we offer diferent choices.
DIS THEATRE
DIS Youth theatre is modern, independent, urban gathering place for young artists to realize their vision of the arts and culture, contribute to develop the full appreciation of artistic freedom, respects and understanding personality differences between people, regardless of differences in age, race, religion, political beliefs or gender.
DIS Youth Theatre was established in Banja Luka in 1991.
WHAT DID TOM ACTUALLY DO
based on Mark Twain's novel. -This Tom Sawyer was seen from the view of two seventeen-year-olds living in the Balkans. They have worked at Tom Sawyer's school to find many parallels with the present weather and in order to adapt and adapt to themselves. It happens very often at shows that we do not know if it is up to the coast of the Mississippi, or some river anywhere in the Balkans, and that it is a heritage that could have happened everywhere. These are the kids who still dream about pirates, about running away from home, dreaming of new and different worlds that, unfortunately, they have to look elsewhere. a modern show full of symbols. The incredible style and new sensibility of the theater.
Author: Mark Twain / Director and Cast: Milan Bogdanović, Marko Bojić